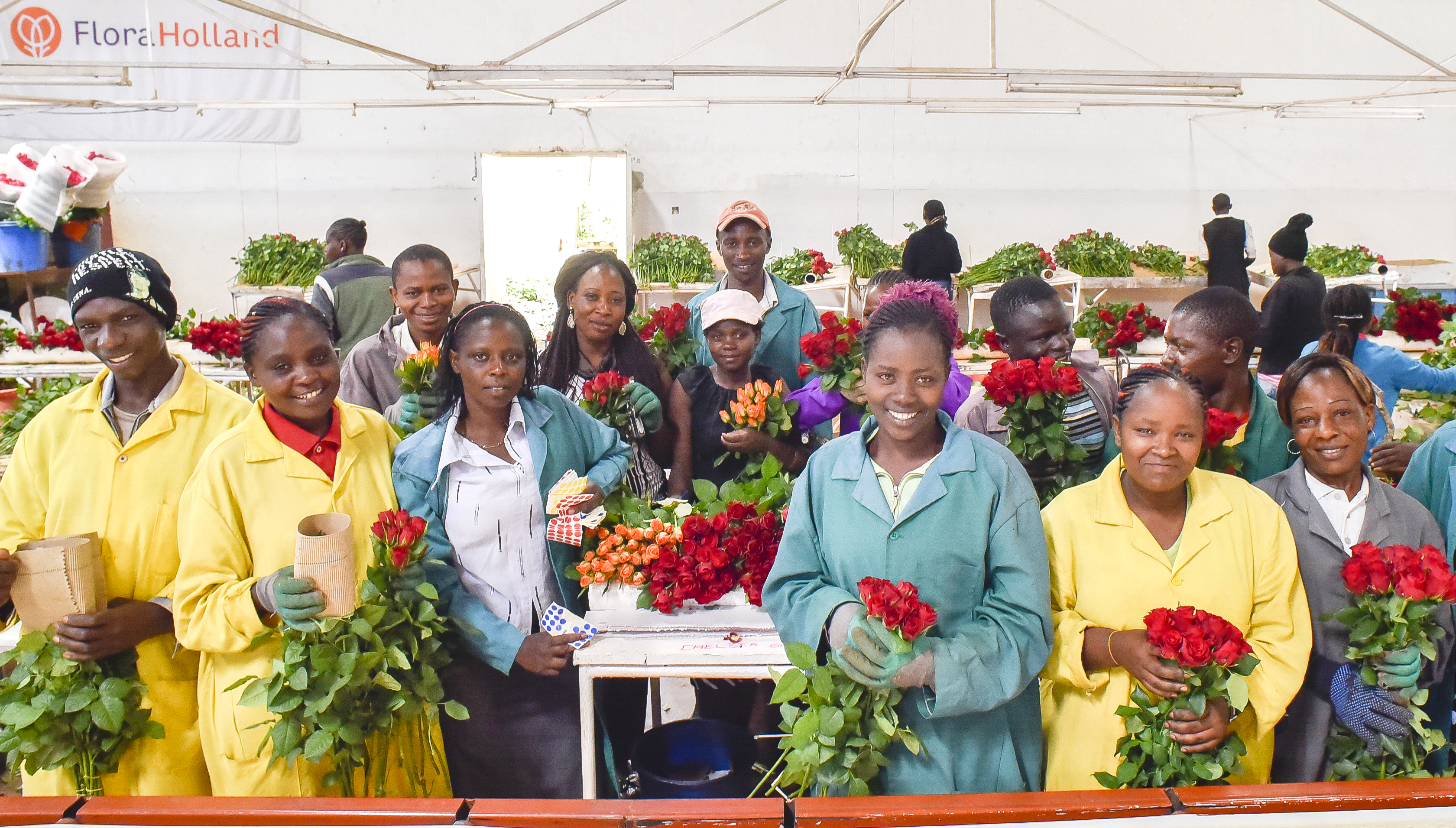 After a week of planning, we were set for our next adventure to one of Kenya's most impressive flower growers, Everflora Flower Farm. Following an exciting and eventful journey, we arrive at farm where we are immediately impressed by the ever welcoming staff and the sight of the expansive farm. The farm which was established in 1995 is one the leading flower growers in Kenya. Everflora is located in Thika, an area in the Greater Kiambu county regarded as one of the best agricultural regions in Kenya. Production is on 30 hectares, in the region that is known to be ideal for flower farming because of availability of fertile and nutrient rich red soil and good weather.
We had an extensive tour of the farm's green houses, the busy packhouse, interacted with the cheerful farm workers and captured all the moments. Later on we sat down with Everflora MD Mr. Khilan Patel to find out more about the farm.
Production Methods Undertaken
Sitting at an altitude of 1550 meters above the sea level, the farm manager Khilan informs us how this is of great advantage since it allows the farm to flush for specific holidays and thus ensures that the production of flowers remains  high per square meter in every harvesting season. Warm days, according to Khilan get to an average of 28 degrees with cool nights getting to 14 degrees Celsius which also makes the area ideal for flower farming.
He further adds that they have placed quality assurance systems that continue to cement Everflora's flowers as not only some the best but the most sought after by buyers across Europe.
He lists them as:
Efficient systems of pre-production all through to post production by being very careful when it comes to picking roses that only meet the best standards 6cm heads and with long sturdy stems.
Flowers at the farm are only grown in steel houses using 100% hydroponics. Ventilation in these green houses is additionally supplemented by fans placed in each of them which allow for better pest and disease control that is unmatched.
Premium Roses Produced by Everflora
"Some of our most prominent varieties include Rhodos, Madam Red and Furiosa. These roses achieve the best demand during peak days which further enhances their popularity in Europe and other markets," says Khilan.
Staff motivation
Everflora continues to provide essential incentives in its bid to empower and motivate it's 550 strong work force.  Khilan states that the farm has provided free schools for their staff's children, social halls for entertainment and games and a medical clinic that offers free healthcare. He also points out that the farm has allowed the workers to form a cooperative Sacco which encourages them to save their earnings and receive loans at affordable interest rates. With a motivated staff, high quality rose production is assured.
Relationship with Flower Optimal Connection
We also wanted to know from Khilan on how Flower Optimal Connection through its many years of experience in offering strategic solutions to flower farms across Kenya has contributed to the farms continued success in the export market. He had nothing but honest praise on the partnership between Flower Optimal Connection and Everflora which has lasted for many years. He was also quick to acknowledge that with the availability of a large unpacking area, Flower Optimal has given the farm an added advantage of having the ability to export large volumes of premium roses destined for the European market in each season. He also pointed out that Flower Optimal provides many outlets for buyers who have a great appetite for Everflora's exceptional flowers; what's more it also offers an added advantage of direct sales across the world thus creating profitable returns.
Maintaining Good Quality Roses Despite Challenges
According to Khilan, Everflora is not immune from some challenges that seem to plague almost all major flower farms across the world. The most notable among these according to his experience is high power costs as a result of Kenya's dependency on hydro electricity, market price fluctuations and global warming that has brought about adverse climatic changes in the country. Regardless of these challenges, the farms success in producing market leading roses is not in doubt.
Everflora Roses
We have to take this opportunity to thank Everflora's Managing Director Mr. Khilan Patel and the kind, enthusiastic and extremely professional staff for hosting us. We definitely have to plan for another visit soon.
For any queries, please contact us  or send an email to Ishai Sharon at ishai.sharon@optimal-connection.com