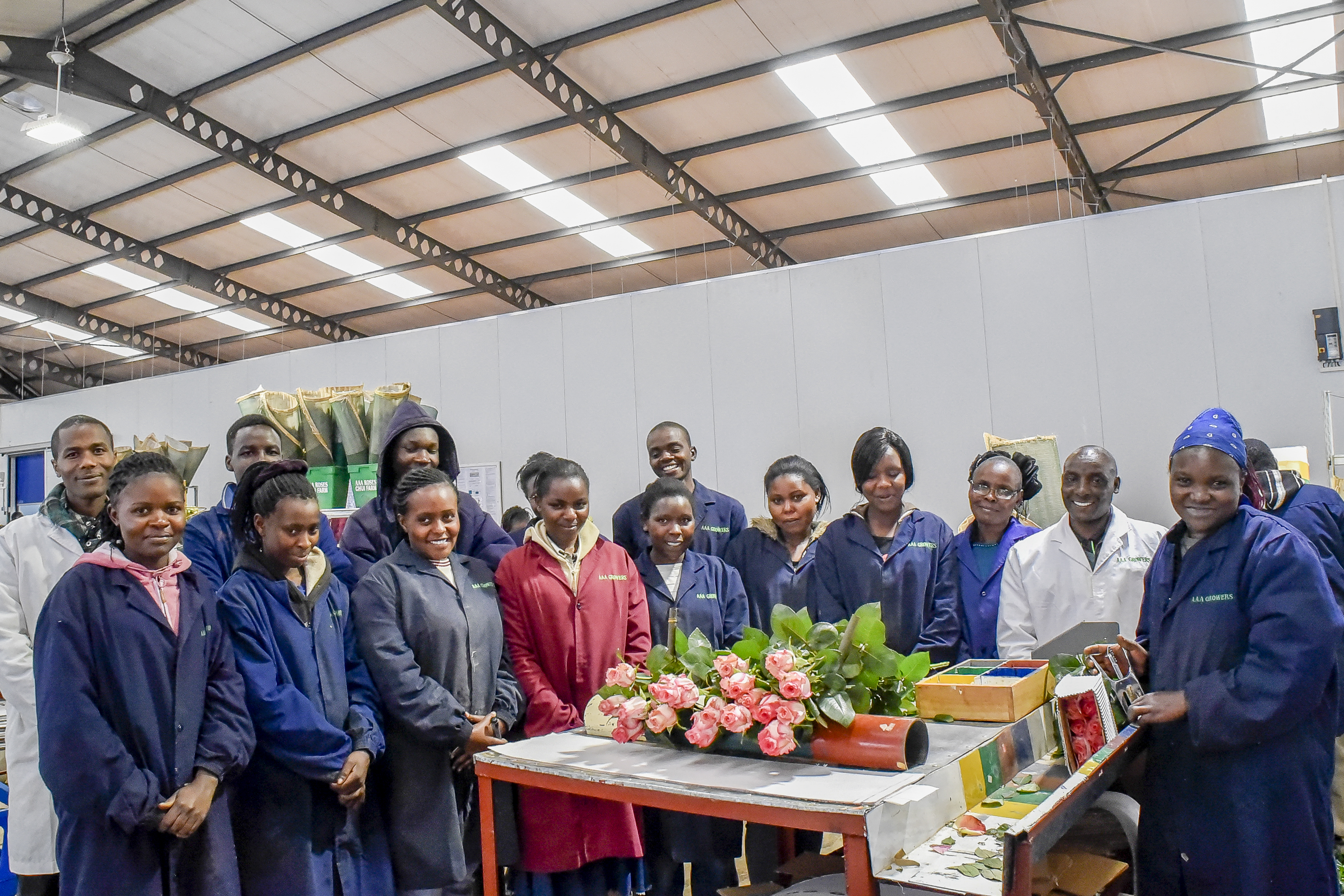 Mt Kenya, Africa's second highest peak, forms an imposing background while majestically staring down at the idyllic expanse of Timau near Nanyuki in Kenya. It is amidst this picturesque setting that Chui Farm, the newest venture by AAA Growers is located. Chui Farm produces some of the most exclusive and exceptional Kenyan roses under the brand name Bellissima; which fittingly translates to "Gorgeous Lady" in Italian.
Bellisssima premium Kenyan roses are unpacked and sold through auction in Europe by Flower Optimal Connection and direct sales to other parts of the world. Flower Optimal has many years experience offering strategic solutions and efficient unpacking services to growers from Kenya, Ethiopia, Israel and other countries.The farm currently has 20 hectares under production with a further 10 hectare expansion under development and projected to be operational before the close of 2017.
Being one of our favorite clients, we had the pleasure of visiting this beautiful farm with an aim to find out what is the secret to their success. When we arrived at the Chui Farm, we were welcomed by the General Manager, Shailesh Rai, who took us on a tour around the farm and sat down with us for a chat.
Secrets To Good Production
According to Shailesh, at an astonishing altitude of 2,500m above sea level, Bellissima's exclusive assortment of roses have large flower-heads of average 6cm and long sturdy stems of average 80cm – 100cm. This impressive high altitude plays a major role in their success and gives them an added advantage in producing top quality roses. At Bellissima the constant pursuit for perfection has seen the AAA farm develop an efficient system of controls from pre-production all through to post-production. The systems ensure that an optimal quality of each single stem is achieved and maintained. "Harvesting", the GM adds "is done once or twice daily.'
"To ensure that our roses not only have good vaselife and our roses are treated in chilled water after harvest; we use proper top range cooling facilities; observe the right cut-stages for all the roses; and separate the flowers intricately according to age, size and such aspects," says Shailesh.

Corporate Social Responsibility & Personnel Motivation
We went further to ask the GM, Shailesh Rai how Bellissima motivates its work force. He said that the farm whose parent company AAA Growers, is certified by Fairtrade Labeling Organization (FLO). Bellissima provides training for their staff in areas that include computer courses, automobile driving and mechanics and nursing.
"In conjunction with other partners, we donate a percentage of our revenue to a recently initiated Corporate Social Responsibility (CSR) project where farm workers and the community will benefit. In this initiative the workers themselves get to choose which charity projects to be carried out within the community. Here at Chui Farm we currently have 350 workers, and in a move to empower women in the surrounding community, a good majority of our workers are ladies." he adds.

Water Management
Situated in the mountains, the climate gives Chui Farm sufficient quality water, adding to the many reason Bellissima is able to produce premium Kenyan roses throughout the year. The flower farm is served by a reservoir with an impressive capacity of 130,000m3; this consists of rainwater collected from the Greenhouses. This is supplemented by two boreholes which ensure the farm has constant supply of fresh spring water. According to the General Manager, the water reservoir is capable of supplying adequate water for up to 6 months even in the absence of sufficient rain.

Premium Roses
We asked Shailesh which are some of their winner varieties include and with a proud look on his face, he told us it had to be Ever Red – Bellissima, Alba, Confidential, Moody Blues, Boulevard and Ever Red – Bellissima is a super premium variety with a beautiful velvety red hue, excellent stem-length and very good head size.The Bellissima range has 24 rose varieties in assorted colors categorized under Gold and Gold Plus.
An overview of Bellissima current Rose Assortment
After close to an hour's tour of the farm, under the guidance of an ever jolly and widely knowledgeable production manager, Atanas Mutiso, we were left amazed by the impressive selection of Bellissima Roses; the enthusiasm of the employees and the attention to detail in every step of production. A big thank you to Bellissima Roses for hosting us and we definitely look forward to visiting again.
For more information on these Kenyan premium roses, please contact us  or send an email to Ishai Sharon at ishai.sharon@optimal-connection.com